I can't believe that I am almost at 40 weeks! Seriously, it seems like just yesterday we were finding out, then telling our family and friends, announcing it on the blog, and now we are days away from the due date! The first 12 weeks did crawl by at a snail's pace, but once I entered into that second trimester the time has just FLOWN by and I find myself not ready for it to be over just yet!
I know the above statement sounds crazy for a pregnant lady about ready to pop to say, but Tyge and I were reflecting last weekend on what an incredible pregnancy I've had. At this point I'm not screaming to "get it out" and not as miserable as many women are at nearly 40 weeks. Aside from the normal uncomfortableness, it has been such an easy, healthy, and happy pregnancy and I am really going to miss it. I am treasuring every kick and wiggle in these last few days and as exciting as it'll be to have Petrie in my arms, I'll really miss having him/her in my belly. I can honestly say that having a miscarriage made me not take this pregnancy for granted for one second. It definitely gave me a positive perspective on things and made me less apt to complain when things weren't so glowing at times. I don't know if I'll be blessed with another pregnancy, so I've really treasured every moment of this one and look back on the past 9 months with nothing but gratitude.
I've seen some "Pregnancy Must Have" lists on a few other Mommy blogs I read, so wanted to create one of my own. Here are a few things that really helped me get through this pregnancy:
Preggie Pops - I was so nauseous in the beginning that these really helped me, along with having a light snack right away when I got up in the morning.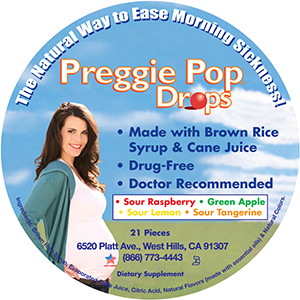 Body Pillow - seriously, a lifesaver! Betsy let me borrow hers (I think it's called The Snuzzler?) and I don't know what I would have done without it. Early on I thought it was just comfy and nice to use, but towards the end here it's made a world of difference in my sleep. Though now that I'm getting up to pee so often it's a bit hard to roll over it, but the increased comfort is totally worth the hassle.
Ocean Potion Aloe Lotion - I have Cocoa Butter and Burt's Bees stretch mark lotion, but really haven't used it all that much, and was very lucky to not get stretch marks. I do get pretty dry skin everywhere and have spent time in the sun, and this the the BEST sun care lotion I've ever used. I can only find it at Walmart so stocked up early on and use it every day after my shower!
Greek Yogurt - Of all the cravings I've had, Greek Yogurt was the biggest one! I have this every morning with berries for breakfast, and often again as a snack mid-day.
Tums - As the heartburn has increased, these seemed to help somewhat. Not completely, but they ease the intense burning a bit!
Old Navy maternity side runched tanks and yoga pants - I have some really cute maternity clothes that I wear to work and out on weekends, but I LIVE in these pants and have several colors of the tank that I throw on the minute I get home.
A good bra and maternity undies - I have the Victoria's Secret Incredible for daytime and a comfy sports bra (or no bra haha) for after work. In the beginning, I thought maternity undies were unnecessary but WOW was I wrong! As I got bigger, I bought a few pairs from Target and they are the only one I wear - so comfy.
Blue Camelbak water bottle - I have this exact water bottle and it's been attached to my hand all pregnancy long. I have been so thirsty and just guzzle out of this thing! I get sick of plain water so have been adding lemon juice to make it tastier. I actually thought I lost this one day at work and almost had a meltdown, but my coworker found it for me - crisis averted. :)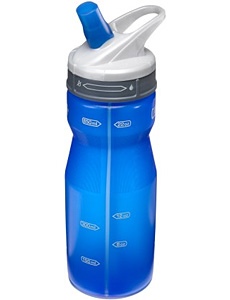 Babycenter - I am such an information gatherer, so having this App, daily emails, and access to the website has been really helpful. Tyge gets an email too so it's been fun to have him tell me things he's learning and what's going on with the baby each week.
Birth stories/Natural birth books - In the beginning I didn't put too much thought into the actual birth itself, but once I realized that I have to get this thing OUT of me, I've been researching HOW I want to do that. Hearing/reading/watching positive birth stories and reading books like

Ina May's Guide to Childbirth

, Natural Childbirth The Bradley Way, and Hypnobirthing has offered me so many great, peaceful birth stories that are like the ones I choose to think about when I picture what Petrie's birth will be like.
Experienced girlfriends and family - I am blessed to have many amazing girlfriends, many of who are mommies or pregnant as well. It's been awesome to be surrounded by a network of women who I admire and can pick their brains about what helped them during pregnancy and new mommyhood. Of course, I also looked to my own mom, mother-in-law, and sister-in-law for advice and support along the way which was so valuable!
My amazingly supportive husband - Seriously, I couldn't have made it through these 9 months without him. In the beginning he was so helpful with taking over household chores, cooking, caring for Keely girl, caring for me, etc. Really he's been pitching in extra the entire time! And he didn't bat an eye at the baby to-do list, complain when I asked him to paint a second coat on the nursery walls, or call me crazy when I insisted on hanging curtains at midnight. He has been so patient, loving, and supportive and made me feel beautiful every day, even when I may feel like a whale. He's had extra added stress with his new job taking him out of town and having to read and learn so many new things, but he's still made me and Petrie #1 priority and for that, I am so thankful.
An attitude of gratitude - like I said above, this pregnancy was such a blessing for me/us and I've not taken it for granted for one second. I think after one unsuccessful pregnancy, having the privilege of growing this baby for the past 40 weeks is something I am so thankful for that I chose to focus on that and not the negative aspects pregnancy can bring. This really helped me put things into perspective!
And last but not least - PRAYER, PRAYER, PRAYER! I know my pregnancy and Petrie's health has been covered by the prayers of many and I am so thankful for that. I know that's the reason things have been so amazing thus far, and fully trust God's timing and plan for Petrie's birth as well.
Any day now, ours will be here!!!